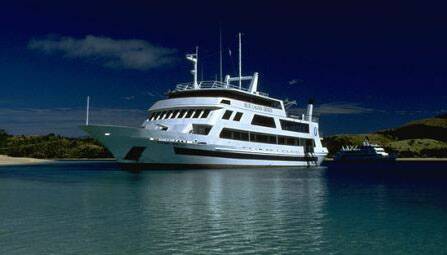 54m x 11m x 1.99m

Built to ABS class 1984  Tonnages: 917 GRT. 366 NRT.

Main Engines: 2 x Cummins N14 turbocharged (new in 2000). 2 x Gardner 8L3B 200 hp driving 2 x 150 KVA gensets.

Accomodation: Pax: 72. Staterooms / cabins: 33. Crew up to 19. 33 Air-conditioned cabins - 87 seat dining room. Sundeck and cocktail bar - Full hotel style services.

Survey: Was ABS class until 1995. Now FMB. Last refit February 2008. Drydockings: Bi-annual.

1-7 day cruise duration

Broker Comments: Constructed all welded steel with double bottom tanks carrying fresh water, fuel, ballast water, sewage. Air-conditioning throughout. Full hotel services. Ongoing full maintenance regime. Fresh to the market. Operating now - turn the key!

Capacities: Fuel: 30,000 litres. Consumption: 2,000 litres per day. Water: 150,000 litres

Location: Indian Ocean